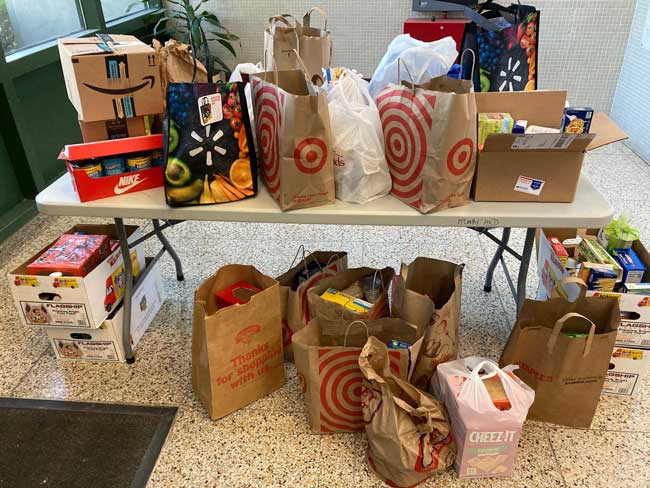 McCarthy Middle School Begins 46th Year of Project 300 Food Drive with High Hopes
in Newsletters
Pre-Thanksgiving food drive runs from Nov. 8-15
CHELMSFORD, MA (Nov. 5, 2021) – Project 300, believed to be the largest school food drive in the state of Massachusetts, will run from Monday, Nov. 8-15 at Chelmsford's McCarthy Middle School with the hope of collecting 32,000 nonperishable food items, said coordinator Tom Gallagher on Friday.
"Last year was special, surpassing our goal of 15,000 items with 16,691, considering the circumstances," said Mr. Gallagher, an eighth grade math educator at McCarthy in his 15th year as coordinator. "This year we are backed to a masked normal, hence our goal of surpassing 32,000 items."
Along with the call for nonperishable donations, the annual drive will include a poster contest and t-shirt design contest; grade vs. grade competition; as well as top student and top classroom donations. Additionally, The Brickhouse Dine and Donate is slated for Monday, Nov. 15 at both The Brickhouse Center Grill at 1 Central Square and the Brickhouse Pizza at 67 Middlesex Street in Chelmsford.
"For an entire week, our school will be transformed into a donation warehouse for nonperishable food items," Mr. Gallagher said. "It will be awesome to see us collecting donations in person again."
Donation drop-off points will be located at the McCarthy Middle School lobby and the small gymnasium.
At the conclusion of the drive, donations will be turned over directly to the Salvation Army of Lowell, which will feed countless food insecure neighbors and veterans around the Merrimack Valley.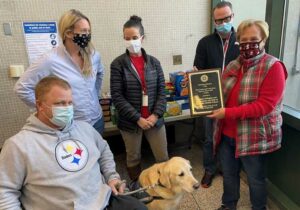 Last year, Project 300 efforts were hindered by the Covid-19 outbreak, which saw Chelmsford students attend school on a hybrid basis. Despite its limits, McCarthy students, staff and families were able to compile 16,691 nonperishable items and were presented with the Charles and Carla Keen Service Above Self Award by the Chelmsford Rotary Club.
To find out more about the 2021 Project 300 food drive, e-mail Mr. Gallagher at gallaghert@chelmsford.k12.ma.us.
About Chelmsford Public Schools
The Chelmsford Public School District provides all students with multiple pathways to optimize their own potential for academic excellence, leadership, and social and emotional wellness. The mission of the Chelmsford Public Schools is to educate, engage, prepare, and empower well-rounded and knowledgeable learners to PERSEVERE through challenges, demonstrate RESPECT and INTEGRITY in their words and actions, are DEDICATED to their community, and display EMPATHY as global citizens while discovering and pursuing their full potential.  This PRIDE-driven culture enables all members of the school community to support the growth and development of students.  For more information, please visit www.chelmsfordschools.org.